You folks may remember the lovely Lydia from this Repurpose Round Up! Well we've got her here on the blog today to tell us her story behind her adorable shop full of recycled and eco-conscious clothing and accessories!
My name is Lydia Krupinski and I am the sole maker, mover and shaker behind Pierogi Picnic. My indie biz launched in 2008 and includes handmade eco-friendly clothing, custom-made garments and vintage. Etsy was where I debuted the line and it's my mainstay for connecting with clients and fans. I've been a 'creative' all my life – from painting and sculpting to sewing and film-making – my interests and training weave through the arts. I've also always had an entrepreneurial spirit. My mom lovingly recounts how I stole the money of fellow classmates in grade school by opening up a 'recess craft shop' where I sold handmade jewelry. I got away with it for several weeks until my teachers got wise. It was the first tell tale sign that I'd be opening some kind of creative goods business in the future.

3 things you've learned about yourself from crafting?
I really enjoy working with my hands. I remember reading an article in Psychology Today that recounted a study that linked low rates of depression to people who work with their hands. It was a light bulb moment as I thought about how incredible it feels to create something physically – not digitally. Our service economy puts so much focus on telecommunications, we've lost our connection to the physical realm. There's something to be said about the tactile. Starting with a raw material and manipulating it until it reaches your vision is an incredible feeling!
I love process. It's not always about the end product. Through my sewing and other crafting I've found that it's the total experience that makes it such an escape. From choosing which records I'll play during my studio days to taking in the step by step process of making garments, I've learned to relish each part of the process.
I'm versatile. There are so many techniques I thought I could never do as I can be really impatient. But over the years I've taught myself to screenprint, knit, embroider and more thanks to the art of evolving my business!
3 things you've learned from being your own boss?
I don't get overtime! This was one of the most difficult lessons I had to learn. When run your own business, whether it's a craft operation or freelance work, it's easy to be swept up in the moment and slave drive yourself to death! So I learned a couple years back that I have to set time limits and plan in advance so as to work smarter, not harder.
I'm thorough. I had never thought of myself as a 'details' person, but having to do my own accounting, website design and marketing has shown me that I really do pay attention to the minutia and don't let errors slip. I used to think I was so sloppy and disorganized!
Indie doesn't mean isolated. It took me a while but I realized that just because I run my own business doesn't mean I should do so in a bubble. It's so important to network with other craft-people and share experiences – both on and offline. I've also learned the importance of collaborating for things like events or projects. We can't be successful if we do things in a secret corner of our world and don't share interaction with others.
3 ways you stay inspired
By staying connected. Keeping myself educated to what's happening in the world via global affairs, blogs and meeting keeps my perspective fresh and helps me connect-the-dots between what I'm doing and what others are striving towards. Whether it's using Pinterest or reading Treehugger – everything is connected and when I am too it makes a difference. I don't hit creative walls as often.
 My friends.My closest friends and I are leading parallel lives on opposite corners of the country – and whenever I'm losing inspiration all I have to do is give them a call, send them a note or stalk them online. Whether it's a creative rut or a general malaise, they're always there to cheer me up and push me along. I'm also really lucky because my companions are all incredible women with immeasurable talent in their fields and that in and of itself is inspiring! Friends who are proactive, engaged and passionate are contagious!
My husband. My partner in crime is a fine artist and musician – and there's nothing more inspiring then sharing a studio with him! Though our tastes are the same – are medium are not – and I find it really influential to work beside him. Whether he's working on his latest album or on a large scale oil painting – just looking over and seeing him flooded with creativity is all I need to get myself moving.
3 of your favorite items currently in your shop?
Freshly Picked. 
These tank tops are fun to make and so flirty! This one in particular dons my all-time favorite shade: aqua – so how could I not choose it?!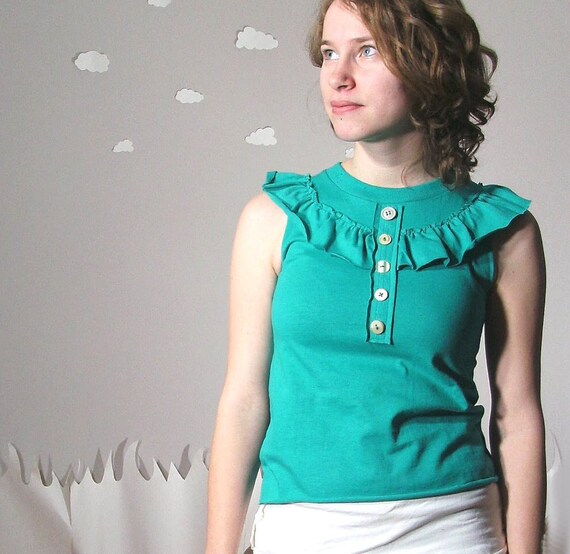 Stormy Weather. 
These skirts are a joy to make and I love the shape and details. They're inverted t-shirts that I sew into a 'paper bag' shape. I also really like the gathered top and lace drop insets. The color of this particular listing is stunning: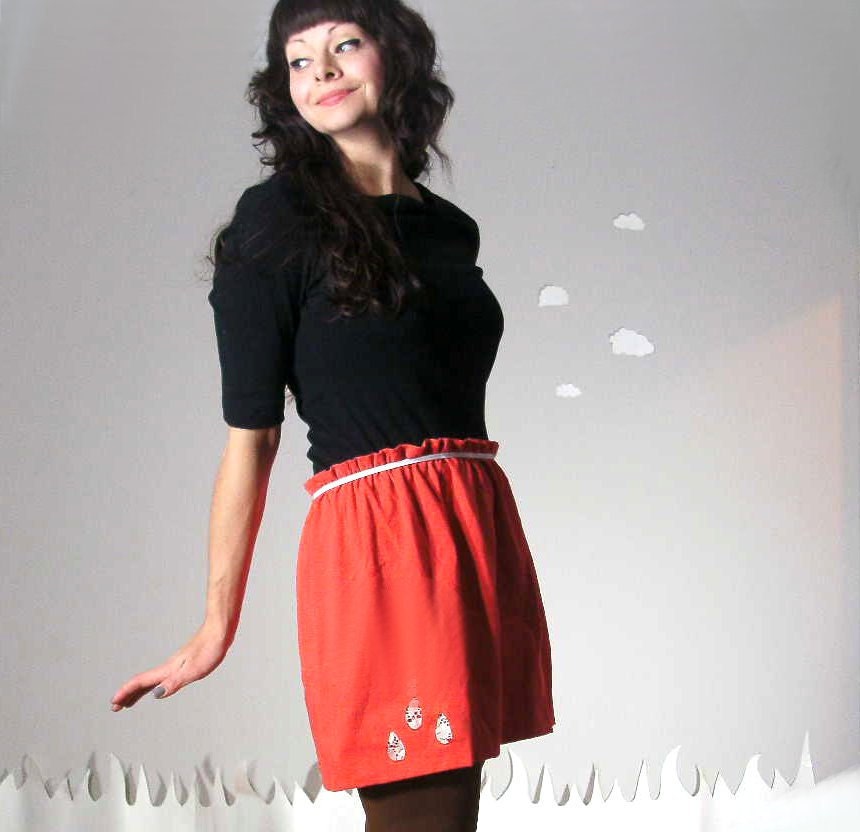 Sir Cycle. 
I hate including something that's not amendable to warm weather – but this men's design is one of my all time favorites. It's a converted sweatshirt that I streamline to the client's shape and then add a hood and cowl. I like how elegant but casual it looks all at once: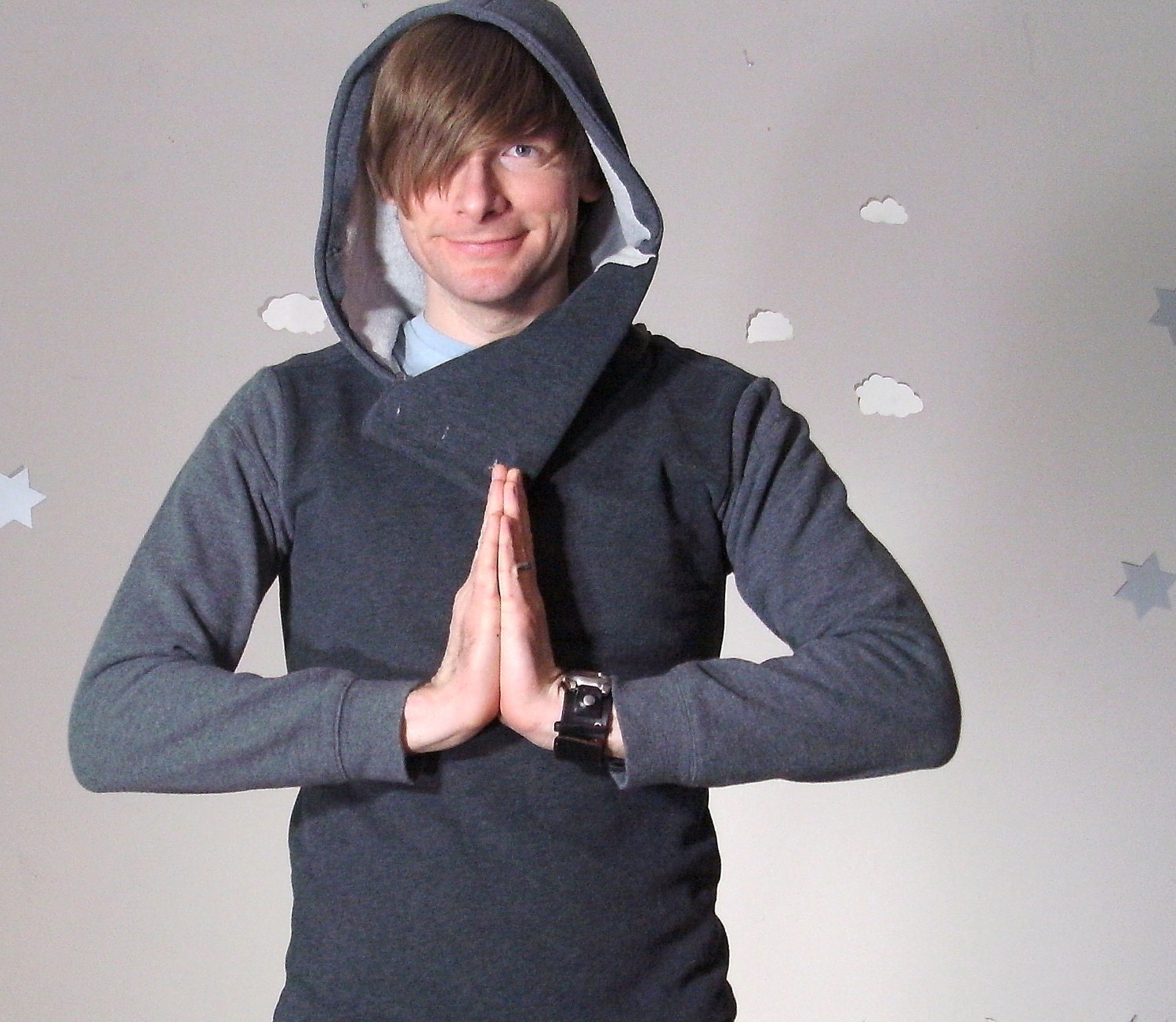 3 words of wisdom for others starting out in selling their crafts on Etsy or online?
Plan. When I first jumped into my Etsy shop I hadn't done too much research or planning. I just dove in head first without knowing my branding, pricing or how to present items in their best light. Etsy now has sooooo many resources for sellers that it would be foolish not to utilize them – whether you're a newbie or veteran. Having everything in place before debuting is really important.
Push. You should be your own number one fan! I wish I had done more self-promotion in the beginning – but I was shy and Etsy wasn't as well known as it is now. If you have an online business you, your friends and family should all own your items, use/wear them regularly and toot your shop's horn!
Experiment. Most artisans have a very specific vision of what they want to create and how they foresee the presentation. But sometimes we can be our own worst enemies if we resist innovation and don't take chances. Whether it's with product development, taking a chance on a show, or collaborating with a stranger – it's taking risks that can lead to fast success.